Bogs have fascinating landscapes. Walking through one is like walking on floating soil. In every direction, you'll spot rare plants, mosses, bog pools. If you can manage a good walk, you can manage a bog shoeing tour.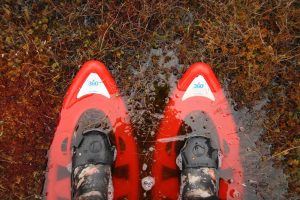 A bog is like a giant sponge made of peat, harboring bog pools, hollows and raised bog beds which are still in the process of formation. They began to develop at the end of the Ice Age as plants began to invade waterways. Currently they cover 22% of the Estonian landscape, but they are rapidly disappearing elsewhere in the world.
A bogshoe is like a snowshoe. In olden times, Estonians clipped on bogshoes for picking berries or making hay – and for walking across the bog to visit neighbors. Today, a hike through these intriguing ecosystems offers a great way to spend some leisure time while experiencing a unique natural landscape.
For more information and for bookings please
contact us by e-mail or call +371  6 7288 494.