The competing teams will have to build a working remote controlled robot using building blocks provided by us.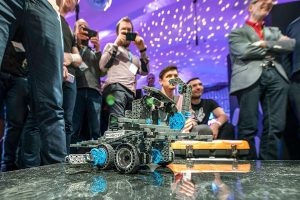 The robots will then take part in the final competition. For the robot building workshop logo type building blocks are provided, as well as the base with the motor, around which the robot is built. At the beginning of the event teams are formed and the brief description of the goal of the event is provided. From this moment it will take 1-2 hours for building, and after that robots will start the competition, the goal of which is to complete one specific task!
For more information and for bookings please
contact us by e-mail or call +371  6 7288 494.