A new restaurant Tuljak in Tallinn
Favorites
29.09.2015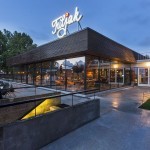 The listed historical building designed by Valve Pormeister in the 1960s has been renovated to be as close as possible to its original appearance. The restaurant has been decorated with retro furniture and the original lighting and fittings have been restored.
The large terrace, the green area around the building and the ice-cream kiosk were also all renovated together with the restaurant. The restaurant Tuljak has opened in the building, with a large kitchen in its centre and seating for 300 inside and on the terrace.
The restaurant menu carries echoes of the best days of the old Tuljak restaurant, with big sandwiches, herring in tomato sauce, and brandy snaps, all brought up to date by the hands of skilled chefs.
For more information and to make a booking please contact us by e-mail or call +372 626 6233.