Amberton Villas – new housing complex in Karklė
Favorites
02.10.2019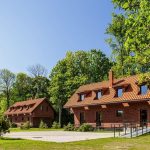 Amberton Villas are an area of new holiday homes in picturesque Karklė, just 100 meters from the sea. It is a place for those looking for a peaceful break-away from the daily bustle of the city and to spend quality time surrounded by the nature.
The Amberton Villas are just 800 meters away from the famous cliff called Dutchman's Cap, which can be reached by walking along the beach. The guests can enjoy a delicious lunch or dinner in a cafe located just 100 meters away. A cycling path leads to Klaipeda or Palanga through the forests and Baltic Sea coastline.
Amberton Villas can offer not only accommodation, but also MICE facilities for unique conferences, seminars and training sessions with coffee breaks in the fresh air or a picnic by the sea.
The Amberton Villas complex is composed of nine modern villas. Seven of them count three-bedrooms, one is two-bedroom villa and the last one is the largest: with an area of 215 sq.m., it boasts three bedrooms, a spacious living room and a modern conference/meeting room.
Each villa has a fully equipped kitchen with all the necessary appliances. There are also barbecues with a rack and skewers for you to enjoy grilled food on cozy outdoor terraces. All villas are equipped with Wi-Fi, a TV with 150 channels, each room has floor heating which can be adjusted separately and the living room has a fireplace.
The area is fenced with an electric gate. Parking spaces for your convenience are located right next to the villas.