Arvo Pärt Centre will be opened in autumn 2018
Favorites
01.10.2018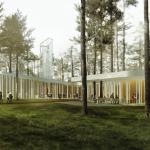 The work of Arvo Pärt has significantly changed our understanding of music and largely influenced the music of the second half of the 20th century everywhere in the world.
The goal of Arvo Pärt Centre, to be opened in autumn 2018, is to preserve and explore the creative heritage of the composer in Estonia – his home country. The building will include a comprehensive personal archive, a library, a 140-seat auditorium, an exhibition hall, a video room, and classrooms. It is possible to conduct master classes and organize world-class concerts there.
This unique building is in line with Arvos' creative nature and is open to all music enthusiasts.