Comfort stay in a historical part of Klaipeda
Favorites
22.09.2016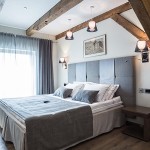 MICHAELSON boutique HOTEL is located in a historical part of Klaipėda, close to the old Castle's site, on the bank of the Dangė River, in the building dating back to the 18th century. A restored ex-warehouse building is a monument preserved by the State enlisted in the Cultural Heritage Registry. The first owner of these buildings was the merchant Epraheim Michaelson, hence MICHAELSON boutique HOTEL.
The Hotel's interior is distinguished by the unique architectural solutions – the synthesis of the 18th century authenticity and modern elegance and comfort. Preserved original wooden structures and brick walls bring back to the past while modern natural materials – such as glass, stone and iron – make it very contemporary. Original lights made in Murano, The Glass Island of Venice, add a tint of elegance to the Hotel. A part of furniture is made of Venetian bricole – this is an allusion to the past of the building, as it is also built on wooden poles.
Hotel guests are welcome in 10 double and 6 single rooms. The restaurant hosting 32 guests will open in autumn. A Hotel Bar offers a thoroughly selected beverage menu. There is a Conference Hall situated in the very centre on a lowered mezzanine open for various exhibitions, conferences, business meetings or product and service presentations.
For more information and for bookings please contact us by e-mail or call +370 5 2125 803.