Explore Viking culture in Vilnius
Favorites
09.05.2017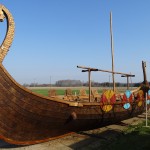 Have you ever met a Viking in Vilnius? Sounds strange? From 8th of May you can definitely meat Vikings on river Neris in Vilnius. An educational and authentic Viking ship will be stationed on river Neris for regular trips up the river with educational stories and performances.
The ship will accommodate up to 12 people during one 45 min trip. The travelers will not only hear ancient stories about Scandinavian Viking and Baltic-Curonian Viking historic connections, but try being ship rowing and singing. Viking ship will be running tours from 8th of May to 1st of September. The ship can be booked for private educational, entertaining team buildings.
For more information and for bookings please contact us by e-mail or call +370 5 2125 803.