Have your meeting hosted at one of the brand new facilities in Lithuania!
Favorites
23.04.2019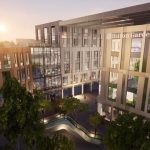 Great news for the meeting planners! New conference facilities will be opened very soon in Vilnius and in other towns of Lithuania!
First of all – a brand new Hilton hotel, first of its brand, is about to open its doors in Vilnius! It is located in the city center, on the second line of the Gediminas avenue. Its neighborhood – Ministry of Foreign affair, Lithuanian Parliament, and the newly reconstructed Lukiskiu square.
It will have 3 meeting rooms for a total space of 150 m², equipped with latest technologies, which will be the perfect place for your seminars. The hotel can also welcome groups as it has 164 modern, very quiet rooms (79 standard king, 43 standard queen, 37 standard twin, 3 deluxe king and 2 accessible rooms).
It boasts 3 food and beverage outlets: "Beef restaurant" which is a casual, all-day restaurant, a lobby bar, a Shop and lounge area, and a 200 m² summer terrace. The opening is planned for 2019.07.01.
Vilnius is also waiting for the "Radisson RED" hotel, which will elevate next to "Radisson BLU Lietuva" in the business district. The potential of hosting huge events in Vilnius will be multiplied.
Other hotels will complete the list, such as "Moxy" by Marriott in Kaunas in 2020, which will become the biggest hotel in town with 175 rooms. It will be equipped with a modern conference center which will most certainly attract important events. Another hotel belonging to Marriott brand is being built in Palanga, main seaside resort of Lithuania. As the city is lacking of hotels able to host meetings and events, this brand new hotel will bring a solution to this issue.