INCENTIVE IDEA – Discover the unseen Vilnius with original excursions!
Favorites
02.10.2019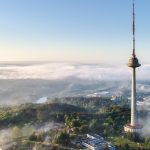 We invite you to escape the touristic routes and get to know different areas of Vilnius, such as Naujininkai, Lazdynai, Zirmunai, Paneriai neighborhoods, among the others. These are the living areas where tourists don't go to, and yet loads of interesting facts, objects of interest can be discovered there.
We offer to you non–traditional excursions in these Vilnius areas with professional guides and unique opportunities to have excursions not only going on foot, but also using trains, buses and trolleybuses.
See Vilnius city from another angle!
Excursion in Vilnius offer – from 15 Eur / per person for groups of >10 people.
The price includes: Guide services, entrance fee to excursion objects, public transportation tickets
For further information and bookings please contact: incom@estravel.lt