INCENTIVE IDEA – Get to know Lithuania through festivals and events!
Favorites
23.04.2019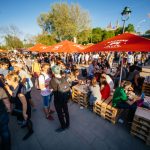 2019 as every other year in Lithuania are filled with interesting celebrations which attracts people from lots of different countries.
This year marks 30 anniversary for the Baltic Way when approximately two million people joined their hands to form a peaceful political demonstration across three Baltic countries – Estonia, Latvia and Lithuania. For this special occasion there will be a lot of events in cities all across Lithuania to remember the unity of the Baltic countries. For tourists this unique celebration will definitely leave an unforgettable impression.
Many more events that are worth seeing will be held in 2019. Every corner in Lithuania will be filled with melody when Street Music Day begins on May 18th . When you get hungry, have an Open Kitchen experience at Tymo Market which lasts from May to September, because everything tastes better outside. For art lovers Culture Night which is held on June 14th offers exhibitions in museums and galleries, fashion shows or poetry readings. Traditional Midsummer celebration Saint John's day will surprise tourists with folk dances, songs and fortune telling on June 23rd. Another of the upcoming events on July 5-7th is Days of Live Archeology in Kernavė where people can experience various crafts, go back in prehistoric times and discover Lithuania's ancient capital.
These and other cultural events throughout the year is one of the many reasons for tourists to visit Lithuania.
City break offer – from 120 Eur/per person for groups of 20 people or more, in double occupancy.
The price includes:
– 2 overnights in a centrally located 4* hotel.
– Buffet breakfast.
– Private transfers airport-hotel and hotel-airport with bus.
– Private 3 hours walking tour in Vilnius Old Town
– Entrance to Vilnius University courtyards and campanile St.John's church.
Festival tickets upon request.
For further information and bookings please contact: incom@estravel.lt