Special offer in hotel Semarah hotel Lielupe in June for family 2 ADL, 1 CHD
Favorites
10.06.2020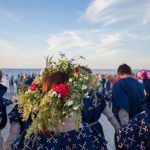 Jurmala Resort City has recently been rated among the safest European resorts.
The city stretches for 26 kilometers along the Gulf of Riga.  Jurmala's central section Majori is a place with lots of attractions –  the beach, where people are enjoying the sun and waves, restaurants and bars with summer terraces. Excellent  SPA hotels.  If you seek serenity or a place to listen to the rustling sea and enjoy a lazy sunset, choose the direction of Lielupe. Several sections of Jurmala – Majori, Dzintari, Bulduri, Dubulti and Jaunkemeri – have received the Blue Flag certificates, proving that the beach is clean, safe and well-equipped. 
Jurmala is the best break for families -your children will be happy. They can play around in the water and build sand castles in the shallow shore. There are playgrounds at the beach with climbing walls, swings and slides. There are also several playgrounds, a skate park and basketball court in Dzintari Mezaparks Park.
Semarah hotel Lielupe June family offer 2 ADL, 1 CHD at a total price of EUR 135
Includes:
1 night family room accommodation 

A-la- carte breakfast  at the hotel restaurant

Visit to hotel's fitness club

Hotel SPA indoor and outdoor pool unlimited  visit

Dinner at hotel restaurant