Metropol Spa Hotel – new in Tallinn
Favorites
21.02.2018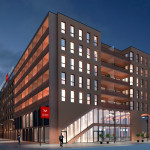 The new business class spa and conference hotel Metropol Spa Hotel will open its doors in the end of May 2018. The hotel is situated in the unique Rotermann quarter in the heart of Tallinn, only a short walk from the historical Old Town. Metropol Spa Hotel is an excellent destination for business, conference and holiday trips.
Metropol Spa Hotel has 137 comfortable rooms. Clients can stay in a standard or business class room or a suite. The rooms are spacious and cosy with a modern interior that meets the needs of even the most demanding client. All rooms have comfortable beds, a shower or bath, air conditioning, LCD TV set, wireless interest, mini safe, mini bar and hairdryer. Business class rooms also have a coffee maker and a kettle, and an iron with an ironing board.
Conferences:
The excellent location of the conference rooms in the heart of Tallinn makes them perfect for all kinds of meetings and conferences.We have four multifunctional conference rooms with a modern interior that are equipped with contemporary technology. The rooms on the third floor of the hotel can be used for conferences, seminars, press conferences, meetings, banquets and special functions. The conference centre has three meeting rooms for 50 to 60 guests and a room with a round table for 12 people. The three larger halls can be connected with each other to create a room big enough for 80 to 140 guests.
For more information and for bookings please contact us by e-mail info@baltcoming.com.