New tastes in Hotel Pacai (Vilnius) – Nineteen18
Favorites
25.01.2019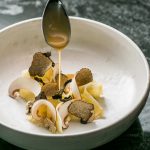 Nineteen18 is situated in Hotel Pacai, a renovated 17th century palace in central Vilnius that has been at the heart of Lithuania's momentous changes over the past four centuries.  The restaurant itself takes its name from the year 1918 when Lithuania regained its independence from Russia in the tumultuous aftermath of the First World War.
With chef Matas Paulinas at the helm, Nineteen18 explores and celebrates the rich culinary heritage of the region immediately around Vilnius. To the extent possible, they source their products from within a 100 km range from the restaurant, not only tapping into the provenance of the region, but also the old techniques of preserving and cooking food which have been developed here over the centuries.
The kitchen is not an historical reconstruction, though, but an improvisation over natural and historical themes.  There are 26 seats in the restaurant. Reservations are available from Wednesday – Saturday.