Nordica – new aviation brand is born
Favorites
19.04.2016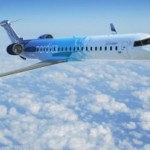 National air carrier Nordic Aviation Group has announced its new visual brand identity.
The new brand name will be Nordica, with a logo inspired by a dragonfly. The company's own aircraft will also be sporting the new design in near future.
The principle and values behind the new brand of Nordica are still the same – it wants to be Estonian in its essence in a manner that captures the hearts of Estonians and creates good emotions in foreigners.
For more information and to make a booking please contact us by e-mail or call +372 626 6233.