On the paths of Vilnius history
Favorites
10.06.2020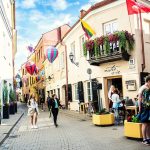 On the paths of Vilnius history
Today, Vilnius is a modern and contemporary city, but under an all-new shiny look, the rich history is hidden. And you will have a chance to get acquainted with during the selected thematic tour. Do you want to know who and what influenced the formation of the city? Then take a tour of the historical personalities of Vilnius! Or choose a tour of the courtyards of Vilnius Old Town and learn about the everyday life of people who once lived here. Maybe you are eager to hear the most mysterious stories the city hides? Then choose the tour Macabre Vilnius and solve the riddle under such an enigmatic name. After the trip through the history bends of the capital, you will have a tasting dinner of historical Lithuanian cuisine in the restaurant of Vilnius Old Town, where the traditional Lithuanian cuisine and modern culture and technology are tastefully combined. 

Price per person (p/p): from 119 €
The number of persons: from 2 persons.
Included:
1 night in Standard Double/twin room in a modern and cozy hotel in Vilnius City center.




Breakfast at the hotel's restaurant.

Tasting dinner in a restaurant of historical Lithuanian cuisine in Vilnius Old Town.

Thematic excursion with a local guide in Vilnius Old Town.

Wi-Fi and parking in the hotel.
*Not included in price: Vilnius city tax: 1 Eur/per person/per night; Tax is applicable for adults above the age of 18 yo. 
**This trip can be organized for more or less than a standard amount of two persons. As the number of travelers changes, the price will be recalculated accordingly.