Only Good Luck tour in Vilnius!
Favorites
28.01.2020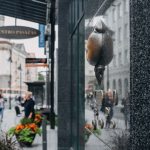 Lithuanian culture is very rich with sayings of all kinds. Lots of them concern luck. Vilnius Old Town also has several places where you can hope to find luck if you do or say something in this place! Let's have a tour and discover these places!
You can start your tour at the Cathedral Square, most probably the best meeting point in Vilnius Old Town. In this square, there is a tile different from the others. This tile is red and has an inscription on it saying "Stebuklas", which means "miracle". It is believed that if you stand on that tile, you can think of a wish, turn around your axis thinking of this wish and then it shall come true!
Then you can continue your miracle-seeking tour going up the Gediminas avenue. When you reach the intersection between the Gediminas avenue and Vilnius street, you will find a small statuette incrusted in the wall representing a thick belly of bronze – it's called "the belly of luck". It is believed that if you rub the belly thinking about a wish, it will definitely come true!
After rubbing the bronze belly, please go up the Vilnius street until you arrive in front of the St Catherine church (Sv.Kotrynos baznycia). There is a small square in this place, where you will find a tile with an apple drawn on it, which is the symbol of love. The believes say that if you stand on this symbol (alone or with your beloved one), you have to make a love wish and then it will come true.
Don't miss on these particular spots if you are seeking for luck and miracles! You can also throw a cent in one of the public fountains – we believe in that too!