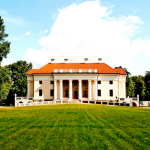 Recently this Manor was awarded by European Commission as the Destination of Excellence (EDEN).
It is not only a pearl of local tourism but also has real potential to attract the interest of all Europe and further. Symbolically, Lithuania has 7 UNESCO objects, and from now on it will have 7 EDEN destinations. Pakruojis manor is located in the northern part of Lithuania – in Pakruojis, famous for its dolomite mines, ancient brewery traditions, noblemen cuisine and distinctive stories. It is the largest complex of manor buildings in Lithuania to have survived to the present day, and it is listed in the Lithuanian Cultural Heritage Register and the Lithuanian Record Book as the largest protected manor homestead.
Every Saturday the live museum programme is organized here, starting with speech and oath of the General Governor, continuing on the show of the Baron's trotters, scary meetings in the Manor feudal Punishment Cellar, discovering the world of parfum, candle making lesson, local homemade beer tasting with Manor brewer Zaldokas and ending with pride of manor: "From Bach to Piazzola" performance by Pakruojis Manor chamber musicians in the White Hall.
During the weekend in the Manor you can also:
Walk all day and admire the largest estate of Lithuania and its beautiful park;
Stay in cozy hotel Miller's House (by prior arrangement);
Enjoy local entertainment, such as sightseeing tours, entertaining educational programmes, horseback riding, etc. and SPA procedures.
Experience, taste and be the part of the usual life of XIX century.
Come and try on your own! For further information and bookings please contact: info@baltcoming.lt