Regular ferry traffic on the route Helsinki – Riga – Helsinki
Favorites
10.06.2020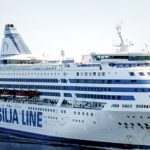 Breaking news! Baltic sea ferry operator "Tallink Grupp" have announced  the regular ferry traffic on the route Helsinki –Riga – Helsinki from June 26th till August 15th, 2020. The overnight cruise will be performed from Helsinki every second day by MS Silja Serenade.
The Riga shore break will take one full day, so you can explore the beautiful city of Riga, take part in a guided walking and sightseeing tour, book a trip to Jurmala or go on an excursion to Rundale Castle. In Riga –  the Baltic Paris, you can shop cheaply and enjoy the historic atmosphere of the Old Town. 
You are welcome to use this transportation option to stay longer and visit Latvia and Estonia or all 3 countries with departure from Tallinn to Helsinki.