Skywheel of Tallinn – Tallinn skyline from a new height and perspective!
Favorites
23.04.2019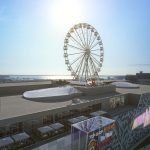 The unique-in-Europe observation wheel will take you 120 metres above sea level, opening Tallinn's classic skyline from a completely new viewpoint. You can also enjoy the magnificent views of the city.
The 27 weather-proof pods of our Ferris wheel provide safe and comfortable rides around the year. The pods are heated during winter months and air-conditioned in the summer. Each pod has room for up to six people, either standing or sitting.
The vistas from our observation wheel are comparable to those of the world's largest Ferris wheels. This is achieved by smart placement: the wheel itself is 45 metres across, complemented by the 35-metre height of the Mall and the location atop the 40 metre high Sossi Hill. The observation wheel reaches a peak height of 120 metres above sea level, making it the second highest viewpoint in Tallinn after the TV Tower. Moreover, the technical solution is unique in Europe – rooftop Ferris wheels have previously been operated in Taiwan and Japan only.