Walkable Vilnius – go on and explore Vilnius on foot!
Favorites
23.04.2019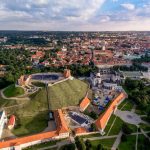 Vilnius is known as a city with medieval Old Town, baroque architecture, many traditions and natural wonders. To explore all of that, "Walkable Vilnius" campaign, that is a part of tourism and business agency ,,Go Vilnius", offers even 23 all kinds of routes on foot to encourage tourists to visit Vilnius city.
,,Walkable Vilnius" created 5 themes for the routes: historical, artistic, natural, family friendly and some routes around Vilnius. All walkable tours can take from one hour to almost all day. While strolling through the city, do not forget to explore Vilnius flavors as well.
Have a cup of coffee at Cheese Džiugas House known for deserts with Lithuanian cheese, or at Elska Coffee to feel the unique affection of art. In this good coffee guide, you can discover many other cozy coffee places. For some food delights visit Downtown Food Hall to experience many tastes at one place. If you want to share the Lithuanian flavors with your family and friends too, make a stop at Halle Market for local products.
Choose one of the walkable tours that suits your interests and level of energy the best and get to know Vilnius from a different perspective.