Artagonist Art Hotel – the right place for art fans
Favorites
29.01.2017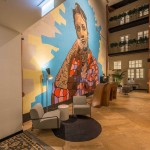 Artagonist Art Hotel is set in an authentic 15th century building in the Old Town of Vilnius. The rooms, hotel reception, restaurant and bar are decorated with handmade artworks by Lithuanian and other artists. You will enjoy a variety of paintings, murals, art installations and sculptures.
Artagonist Art Hotel is located in a walking distance to Vilnius University, Cathedral and Town Hall Squares and many other places popular by Lithuanians and guests of the city.
Along with bar/ lounge, this hotel has a meeting room and concierge services. All 34 air-conditioned rooms offer free WiFi, minibars, coffee makers and flat-screen TVs with satellite channels.
For more information and to make a booking please contact us by e-mail or call +370 5 2125 803.