Brand new rehabilitation center UPA in Druskininkai
Favorites
19.04.2016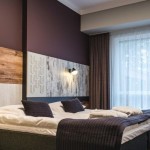 A state-of-the-art rehabilitation center Upa features functional layout and Scandinavian style and offers quality and safe rehabilitation services as well as comfortable accommodation in a resort town. The Centre was named Upa after the goddess of rivers, springs and water in Baltic mythology.
The Centre is nestled in an idyllic spot of Druskininkai amidst pine trees, a river and a water pond.
Upa guests are people with musculoskeletal disorders and cardiovascular diseases. Centre also takes care of visitors who need to recover bodily functions after cancer, joint surgeries, respiratory and digestive system diseases or other disorders. All Upa guests can make full use of medical therapies and stay safe – all our therapies and accommodation services were designed in such a way as to ensure the convenience and comfort for the people with disabilities and reduced mobility.
For more information and for bookings please contact us by e-mail or call +370 5 2125 803.