Colours and Tales of Soup Town in Tartu
Favorites
22.10.2020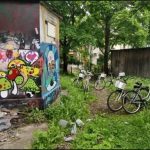 A walk just like in a pot of soup!
The tour takes you along the vegetable-named streets of Soup Town and leads you to the colourful locations of this cozy slum. During the journey you will hear stories of one of Tartu's oldest neighborhoods and experience a delicious spoonful of street art.
We start in front of the culture club Genialistide Klubi and afterwards lose ourselves in Soup Town. There will be a short break in front and inside of the legendary Herne (pea) Shop and the tour will finish in the notorious Freedom Gallery.
Time of tour: 2h / Languages: EST, ENG, FR