Exhibition "Vikings: Life Beyond the Legend"
Favorites
22.09.2016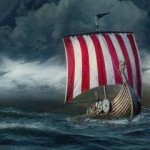 On 13 August world class exhibition "Vikings: Life Beyond the Legend" was opened, which after travelling through Europe and America, will now for the first time be presented beside the Baltic Sea at the Seaplane Harbour. The exhibition by the Swedish History Museum will bring to visitors a rich selection of Viking Age finds and tell tales about the culture and daily life of the Vikings that have until now been overshadowed by the legends.
Although they lived a thousand years ago, they are surrounded by an aura of bravery, belligerence and mystery that makes us talk about them even today. More than that, they have given their name to an entire era in European history – the period from the 8th to 11th centuries is known as the Viking Age. But what exactly do we know about these Northern European people?
One thing is certain – they wear horned helmets only in cartoons and comic strips! And what do we really know about Estonians? Can ancient Estonians also be called Vikings?
In addition to real archaeological finds, the exhibition offers the joy of trial and discovery through exclusive copies and interactive exhibits, among which there is, naturally, the central symbol of the Viking Age – a life-size Viking longboat!
A Viking dressing game, ship-building and archaeological digging activities and many other features add  even more fun for the visitor. This grand exhibition is enhanced by intriguing excursions, special group programs and a Viking menu at the MARU café.
For more information and to make a booking please contact us by e-mail or call +372 626 6233.