Fish festivals in Latvia
Favorites
24.01.2016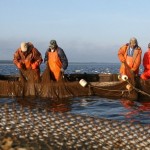 Fish Festivals are popular in Latvia. There are many different festivals in 2016 – choose your favourite.
Smelt Fest (13 February 2016)
During the harsh months of winter, anglers can be found sitting on the frozen canal spooning smelts next to ice-holes. This is a very old tradition in Liepaja, and so it is natural that there should be a smelt-catching competition. The competition gives visitors the chance to taste the smelts, which smell surprisingly like cucumbers, take part in great fun winter activities and enjoy the scheduled entertainment. Everyone will be able to enjoy the seafood on offer, as well as smelts prepared in various ways. Read more: www.liepaja.lv
Flying Fish
An exciting phenomenon can be observed near the waterfall in spring and autumn when spawning salmon try to get over the waterfall by jumping through the air. The "Fish Fly in Kuldīga" festival takes place in April.
As one of the most unusual Latvian national delicacies, the lamprey boasts several festivals devoted to it and to Latvian fishing traditions and culinary arts.
Lamprey festival, Carnikava (20 July 2016)
A full-day entertainment programme with many fun activities, as visitors can enjoy a wide range of performances by famous artists and join the fishermen in their boat ride on the Gauja river mouth. The delicacy of the event is grilled lampreys and lamprey soup cooked in a king-size pot. Do not miss the chance to grab a lamprey event souvenir at the traditional craftsmen's market.
Lamprey Day, Salagriva (10-11 October 2016)
It is possible to visit all three lamprey weirs on Salaca river during the festival as well as the Svētupe lamprey weir, while gourmands can taste lamprey soup and freshly grilled lamprey, and watch the process of lamprey fishing.