Gamtos Perlas hotel – a gateway to peace and quiet
Favorites
22.08.2013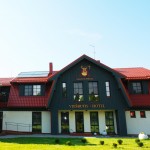 The new Provencal-style hotel Gamtos Perlas stands in open country near the Baltic Sea in Karklė, between Klaipėda and Palanga.
Staying in one of 15 cosy, stylish, comfortably fitted rooms, you can enjoy the comfort of the hotel and the beauty of the surrounding countryside. In our restaurant, you can taste game dishes cooked by expert chefs and then you can relax and recharge your batteries in a sauna or an outdoor hot tub, while your little ones have fun in an outdoor playground.
The countryside is not quite right without animals, and at Gamtos perlas you can visit a mini zoo and a hunting trophy museum, and ride a Landrover on a deer farm. There is also a taxidermy museum in Gamtos perlas.
A unique trophy museum that is unparalleled in Lithuania and Eastern Europe contains surprises in both the abundance and the diversity of its exhibits. Exotic animals caught from dozens of countries from around the world make a great educational tool for both children and adults. Here you can see an elephant and a giraffe, which impress with their size, lions, zebra, rhinoceroses, monkeys, a crocodile, various birds and many other exotic animals.
For more information and to make a booking please contact us by e-mail or call +370 5 2125 803.