Incentive idea – romantic flight for two over Vilnius
Favorites
22.08.2013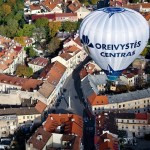 We invite you to enjoy the rare chance to observe the life of Vilnius old town from above. Vilnius is one of few cities in Europe where hot air balloon flights are allowed over the old town, so why not experience it for yourself with someone special.
We offer a romantic hot air balloon flight for two with sparkling wine to celebrate the occasion. If you are first-time hot air balloon fliers you will have to go through the baptism ceremony, after which certificates and baptism names will be granted to you. After the flight, there will be a wine and cheese tasting waiting for you.

Price for 2 persons:
339 Eur

Offer valid till September 31.
For more information and to make a booking please contact us by e-mail or call +370 5 2125 803