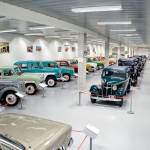 The Car Museum at Halinga is located next to the E67 Tallinn – Pärnu – Riga highway, where it is possible to see many classic vehicles from the last century. The majority of the display is comprised of cars manufactured in the former Soviet Union, from small cars to big Communist Party limousines.
You can also see some famous sports cars and luxury vehicles from the Western car companies.  The restoration of the cars has been done with utmost attention to detail and quality. The exhibition is continuously expanding and complementing. In addition to the cars already on display, there are several more expensive and famous cars in the museum vaults waiting to be restored. The Car Museum at Halinga is suitable for car enthusiasts of all ages, presenting a good opportunity to see old cars the way their first owners once saw them.
For more information and to make a booking please contact us by e-mail or call +372 626 6233.