New conference venue in Tallinn
Favorites
24.01.2016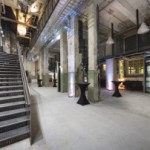 Tallinn's most unusual facility for hosting large events, the Tallinn Creative Hub, was opened at the end of 2015. This historic power plant building has been fully revamped and preserved – bricks, boilers and all.
The building is a fantastic example of early-20th-century industrial architecture. Its name in Estonian is the 'Culture Cauldron' in reference to the former boiler room, which is now the largest meeting space in the 500-person venue.
The city-centre location of the Tallinn Creative Hub puts it within walking distance of major hotels, the sea and the medieval Old Town.
For more information and to make a booking please contact us by e-mail or call +372 626 6233.