New hotel Sophia in Tartu
Favorites
29.01.2017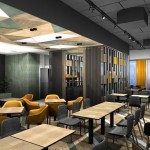 Hotel Sophia is located next to South-Estonias biggest shopping center Lõunakeskus and will open in April 2017. The hotel will also include a restaurant which will seat up to 70 people and will also belong to Tartuhotels group.
The hotel has 72 hotel rooms, which locate on four accommodation floors (III, IV, V and VI).
Conference facilities
Hotel has 2 conference rooms, which are located on the second floor of the hotel. Both of them are well-lighted and spacious. Bigger conference room (63 m2), which has a view overlooking Tartu city, can hold up to 70 people. Smaller conference room (34 m2) with big glass windows make it especially luminous and it can hold up to 30 people, so it is more appropriate for smaller and more private seminars, meetings and workshops. We offer coffee breaks and lunch for conference guests in our restaurant for 70 people, which is located on the same floor as the conference rooms so it can be accessed easily and quickly.
For more information and to make a booking please contact us by e-mail or call +372 626 6233.