New restaurant opened in Tallinn Creative Hub
Favorites
22.09.2016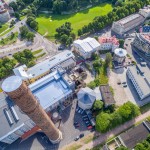 A new great restaurant has been opened in Tallinn Creative Hub – Korsten, Armastus & Hea Toit. Restaurants' Chef Karol Pawlik has 15 year experience in London.
Restaurants very industrial-looking interior is warm, modern and cosy. Food on the menu is mostly Italian. Outdoor terrace is opened during the warmer days.
Korsten or chimney in English can literally be seen in most parts of the city. The chimney belonged to power station that closed in 1979. Today the area is taken over by the Tallinn Creative Hub.
For more information please contact us by e-mail or call +372 626 6233.