Rupert Centre for Art and Education
Favorites
21.01.2014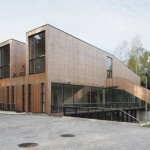 The Rupert centre for art and education has recently been set up in a remote part of Vilnius called Valakampiai.

Based in a building of unique modern architecture, the Rupert centre is a cultural space for various events. On the first floor there is a 274 m2 multifunctional hall, a reading room and administrative facilities. The hall can accommodate events with up to 80 seats or 150 people standing and it has an exit to a terrace with a wonderful view. On the second floor of the Rupert centre are working studios for artists, while a workshop for computer art is in the basement.
The Rupert centre for art and education is a unique space remote from the city and surrounded by nature. The centre is suitable for small or medium size events and fully equipped to host them, with a room designed for coffee breaks, easy access to the site and parking space for cars.
For more information and to make a booking please contact us by e-mail or call +370 5 2125 803.