The Money Museum of the Bank of Lithuania re-opens as new, modern and exciting free museum
Favorites
17.01.2013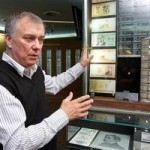 The Money Museum plays an important role in telling the story of economics and historical and cultural heritage, and is based in the heart of Vilnius in the Bank of Lithuania complex. The Museum opened its doors in 1999 and was renovated and modernised in 2011 and re-opened as a stylish, modern and very interesting place to visit. A visit here is totally free of charge and there are no entrance tickets.
The museum is in the very centre of Vilnius and its five halls on two floors explain the history of world money and banking and of Lithuanian money, and the development of banking in the country from the emergence of the first credit institutions to the present day. The modern Money Museum has valuable exhibits and information on stands on show, and also has interactive displays for visitors. These allow visitors to strike a souvenir plate of their own, weigh themselves on a specially-built scale, and calculate their value if they were made of gold, platinum or silver.
The Museum offers much more as well, with virtual exhibitions, films, games and specialised internet access all available on computer terminals with touch screens. The Museum's multilayer display combines the rich history of money and the current stories from the modern economy and offers a wealth of interesting material for everyone.