The Palace of the Grand Dukes of Lithuania is now open
Favorites
21.01.2014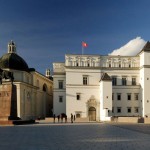 The Palace of the Grand Dukes of Lithuania stands in Vilnius, the capital of Lithuania. It was one of the most famous in Europe in the 15th-17th centuries but was demolished in the beginning of the 19th century. Work on a new palace started in 2002 on the site of the original building, and it was opened on 6 July 2009.

Part of the rebuilt Palace of the Grand Dukes in Vilnius Lower Castle was officially transferred to the museum where there are two exhibition tour routes directly related to the historical functions of this residence.
Today the Gothic, Renaissance and Early Baroque halls of this multifunctional museum are ideal for public events, official visits, conferences, meetings, seminars, concerts, performances and receptions of all sizes and types.
For more information and to make a booking please contact us by e-mail or call +370 5 2125 803.