To Curonian Spit by train
Favorites
09.05.2017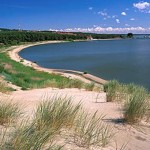 Starting from 26th of May until 27th of August Lithuanian railways offers to travel to Lithuanian seaside by direct express trains on Friday and Saturday. The planned routes are Vilnius-Palanga and Vilnius-Nida.
The express train will go without any stops from Vilnius to Kretinga or Klaipeda. From Kretinga and Klaipeda passengers will go by bus directly to Nida or Palanga. Passengers will not have to worry about ferry tickets. One train ticket will cover the whole trip expenses starting from Vilnius to Nida or Palanga. The trip Vilnius-Palanga will take 4 hours and Vilnius-Nida  – a little bit over 5 hours. Families with children will be offered discounted tickets.
For more information and for bookings please contact us by e-mail or call +370 5 2125 803.