Balbiino opened the first Estonian ice cream museum
Favorites
26.09.2014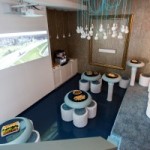 In August, the first ice cream museum in Estonia was opened near Tallinn, illuminating the history of ice cream making and offering refreshing treats.
The museum is in the Balbiino ice cream factory building and will showcase the story of ice cream around the world and in Estonia, from Chinese ice treats to the legacy of the beloved Onu Eskimo ice cream and cream-based ice cream in Estonia.
The first ice cream in Estonia was produced in 1934 and the museum will display the first ice cream machines used in Estonia.
For more information and to make a booking please contact us by e-mail or call +372 626 6233.