Bizzare restaurant – new flavours in Vilnius
Favorites
09.05.2017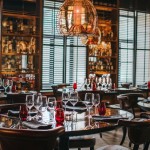 Just recently a new restaurant has opened doors to Vilnius residents and its guests. "Bizzare" restaurant is divided into two floors presenting two different types of cuisines and hosting 3 high level chefs at the same time. On the first floor customers may enjoy Pan-Asian/Peru cuisine and on the second floor your taste buds will be engulfed with European fusion cuisine based on Mediterranean traditions. The second floor restaurant is open from 6 PM till late evening.
First floor restaurant's philosophy is based on sharing principle. The dishes are composed of small bites and people can share one dish and try a lot of different dishes at the same time. Basically if you want to leave restaurant on a full stomach two people should order 6-7 dishes. "Bizzare" restaurant boasts a wide range of sake drink as well. It is located in Vilnius Old Town and is easily reachable on foot from the Old Town or by public transport.
For more information and for bookings please contact us by e-mail or call +370 5 2125 803.