Brand new Hilton Tallinn Park hotel
Favorites
19.04.2016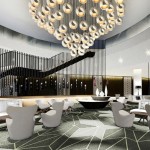 Brand new Hilton Tallinn Park hotel opens its doors at the end of May 2016, bookings are taken from June 23 onwards.
Tallinn Hilton Park will offer 202 rooms in 11 different categories from classical modern rooms to lavish suites with a view of Tallinn Bay.
The hotel's conference centre with 10 meeting rooms will have the best technology available and offers ballroom for up to 520 guests.
For more information and to make a booking please contact us by e-mail or call +372 626 6233.