Brand new hotel in Klaipeda – Dunetton
Favorites
19.04.2016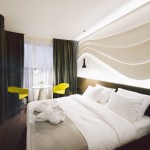 Hotel offers 20 various types of rooms (Standard single, Standard double, Standard twin, Business Class Double, Bridal Suite and Presidential Suite with balcony). Cosy and light rooms are precisely decorated with the motifs of sea stones and wooden seaside dwellings. Some have panoramic views of the Curonian Spit and the lagoon where sea ships constantly pass by.
The roof terrace includes a bar that offers beverages and snacks and invites you to relax at a table and enjoy the views while sunbathing or watching as the sun descends to the sea.
The ground floor of the hotel has a compact and cosy SPA area, which includes a sauna set in an in … timate, dim atmosphere, a bubbling whirlpool bath placed as if under the stars, massage and circulation showers, as well as a lounge area with comfortable deckchairs and a large TV screen. Up to 6 people at a time can comfortably enjoy the pleasures of "Dunetton" hotel's SPA.
"Dunetton" has a restaurant and bar of good tone both for hotel guests, and for anyone who is enticed by the charm of its gourmet kitchen. Only exceptionally good food, drinks, the best service and pleasant environment – this is how we understand the concept of good tone regarding hospitality, therefore the hotel's restaurant was named "Tonas" (Eng. "Tone").
For more information and for bookings please contact us by e-mail or call +370 5 2125 803.