Brothers in arms – exciting shooting range
Favorites
22.08.2013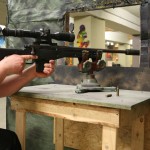 It only takes two to tango but with a bunch of friends you can have a great time in a shooting range! Bring your friends and colleagues, two of you or a large group, a good time is guaranteed either way.
You will receive thorough safety and gun shooting instructions first, and then after practice it's time to compete and have fun in a safe environment, and at the same time to learn about guns.
Different packages are available depending on your interest:
"My First Bang" (Sig-Sauer P226, Glock 17 or 19, Taurus PT908, Beretta CX4 Storm rifle)
"From Russia With Love" (TT Pistol, Makarov Pistol, Kalashnikov assault rifle, Mossin-Nagant rifle, Vepr .308 rifle)
"Brothers In Arms" (Glock or Sig-Sauer pistol, Taurus revolver, Kalashnikov rifle or Beretta Cx4, Shotgun)
For more information and to make a booking please contact us by e-mail or call +372 626 6233.