Ertlio namas – historic Lithuanian cuisine
Favorites
24.01.2016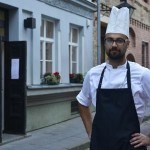 The restaurant got its name from Jurgis Ertlis, a late 17th-century Vilnius citizen of German descent who owned it, and now it welcomes all guests with its old-time flavours and aromas.
The restaurant  (Ertlis House) is where historic Lithuanian cuisine, the age-old spaces of the Old Town, and a contemporary attitude to cooking all meet. Located in a historic building in Vilnius, the restaurant lets you not only taste gourmet food but also make new discoveries and learn more about undiscovered Lithuanian cooking. Here you can order delicacies from the Radvilas' recipes that were famous all over Europe, from the forgotten recipes of monasteries, or from the secrets of the Kuchenmeisters (Kitchen chefs) who worked in the kitchens of Lithuanian manor houses, alongside new interpretations of old dishes created today.
For more information and for bookings please contact us by e-mail or call +370 5 2125 803.