Estonia Resort Hotel & Spa opened in Pärnu, Estonia
Favorites
29.09.2015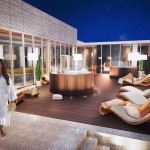 Estonia Spa Hotels opened the Estonia Resort Hotel & Spa, a new 4* hotel with a whole new concept, in July 2015 in Pärnu.
The new hotel is inspired by Estonian nature, cultural traditions and handicraft. It has a total of 106 guest rooms, all air-conditioned and non-smoking. Two of the deluxe rooms are designed for disabled guests and ensure comfort for wheelchair users. The rooms are suitable for people with allergies.
Special attention has been paid to ensuring quality sleep. We have used the experience we have accumulated in several decades of running hotel and spa facilities to select bed products that will surpass the expectations of our guests. Mattresses, pillows and blankets are made by Estonian manufacturers from Pärnu County. We are the first hotel in the world to use SleepAngel™ pillows, the cleanest pillows ever, which have been proven to block out germs, bacteria, allergens and even viruses. Our blankets made of high-quality cotton Thinsulate fabric will let you stay completely relaxed when you sleep. These blankets are exceptionally light, pleasantly warm, perfectly breathable and moisture resistant.
For more information and to make a booking please contact us by e-mail or call +372 626 6233.