Experience a night at a manor
Favorites
24.01.2016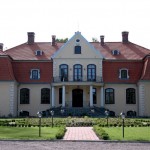 Latvia is famous for its magnificent countryside manors built hundreds of years ago by German and Russian landlords, and thoroughly renovated to show off their architectural value and to offer top class service and accommodation, fine dining, and event facilities.
Rumene Manor – a five-star hotel and a striking example of Neo-Gothic architecture, built in the 19th century.
Liepupe Manor – elegant rooms in Baroque style.
Mezotne Palace – one of the most outstanding examples of Classicist architecture in Latvia, with interiors decorated in the 19th-century style.
Milk Manor – Berghof Manor is not only a historical manor, it also has a nearby dairy museum with milk spa treatments and other recreational opportunities, and exquisite meals served in the restaurant.
Kukšu Manor – Gorgeous carpets, sparkling chandeliers, antique furniture, paintings, frescos and magnificent window decorations show you into the unique world of Kukšu manor house.
For more information and for bookings please contact us by e-mail or call +371 6 7287 977.