Grey, a new restaurant in the Vilnius Old Town
Favorites
24.01.2016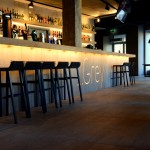 Restaurant Grey was born out of desire to create a high-quality place that is sophisticated and yet approachable. The interior should not dominate, but should complement the essence of the place: people, top-quality food and communication.
The chef at Grey, Laurynas Bužinskas, explains that concrete can be light, old brick can be modern, and grey can be visible. Grey's menu features European cuisine and offers familiar favourites as well as innovative new dishes. The impressive beverage selection stars a wide variety of draught beers and wines.
The menu specialties are grey dishes and grilled dishes made all year round on the indoor grill in the restaurant kitchen. It's a great place for friends, families, tourist groups and business people.
"My goal is to surprise every guest pleasantly", says the chef of Grey, so come and be surprised by the grey burger, grey pasta, grey coffee and grey ice-cream.
For more information and to make a booking please contact us by e-mail or call +370 5 2125 803.