New restaurant in Kaunas – Optimistai
Favorites
10.10.2017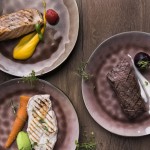 Restaurant Optimistai opened doors in the end of 2017 summer.
The main specialty in the restaurant are grill dishes. "We are orientated to local products, freshness and harmonious taste. Our dishes are modern, but not too fancy, I would say more classic with gentle taste of modernity", says the chef of restaurant Mindaugas Mizaras.
Restaurant can serve lunch or dinner for 80 people. It is great for big celebrations and travelling groups.