New tastes in Vilnius – Amandus Restaurant
Favorites
10.10.2017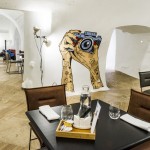 Amandus, a restaurant of the award-winning chef Deivydas Praspaliauskas, is all about experience. Fine dining here is not limited to the highest quality food and service, Amandus also offers a relaxed atmosphere with a pinch of funk for everyone to feel their true selves.
Having learnt his craft in Denmark, Deivydas has kept the Scandinavian gist in all he does. Attention to local, seasonal products together with curiosity for innovation make his menu attractive and extraordinary at the same time. Be it breakfast buffet, a la carte or tasting menu, it all shines with quality and skill.
Amandus restaurant can serve up to 25 guests on the ground floor and up to 50 – in the cellars.