Purtse castle – sightseeing, good food stop and brewery
Favorites
09.05.2017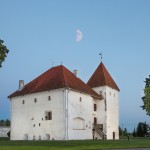 Since the winter of  2014 the castle has had the new host family and now the doors are open for the house tour, exhibitions, concerts as well as for lunch stop at our cafe-restaurant.
Purtse castle is situated in East Viru County on the high banks of the River Purtse, and stands out nicely to a traveler coming from Tallinn direction when looking towards the sea. Purtse castle has been injured in several wars.
The castle has offered protection during inroads. It has also  been in use as an ice cellar, a dairy, a grain warehouse as well as a prison and a workers´ house. Purtse castle was renovated in 1987-1990 and got the award of the best building in 1991.
Hundreds of years ago beer was brewed in Purtse and there was also a distillery. After all, in Medieval times beer was drunk with meals.
The historical facts are quite confusing but the manor´s own distillery and brewery were probably founded in 1622. At that time the manor belonged to Swedish high nobleman Heinrich Fleming.
Since the autumn of 2016, there is a craft beer brewery in the smithy of the castle again. As beer production takes place in the brewery, it is possible to taste and buy various beers from the castle restaurant. If pre-ordered, beer tasting is organised  for groups, it is also possible to enjoy special beer menus and beer stories.
For more information and to make a booking please contact us by e-mail or call +372 626 6233.