The new Viiking Saaga water and sauna centre in Pärnu
Favorites
29.09.2015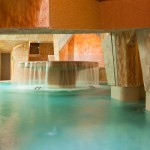 The Viiking Saaga water and sauna centre is a specially designed Viking Oasis of relaxation with saunas hidden in caves and grottos. 
The centre has six different saunas, a large pool of some 265 m2, a range of relaxing attractions, a contraflow stream, Jacuzzis, a Japanese pool, and a children's pool. On the second floor, there is a roof garden and an igloo-sauna.
The spa hotel Viiking is in the beach area near the historic moat and only a few minutes walk from the town centre or the beach. It first opened to visitors in 1993 and it now has four modern and fully-equipped buildings, the last of which was completed in 2012. All the wings are connected by glass galleries making movement between them simple and convenient. Viiking Saaga above all provides indulgence and relaxation.
For more information and to make a booking please contact us by e-mail or call +372 626 6233.