Vaidilos Theatre hall has been reborn for a new life
Favorites
24.01.2016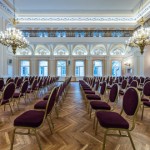 The Vaidilos theatre building stands at 9 Jaksto street in the centre of Vilnius, close to Gedimino Avenue. The building dates from the 19th century and is in a unique neo-gothic architectural style.
The first to live in the building were the family of the architect, Mr Prozorov, and tenants like a railway club, shops and apartments. The building was damaged during the Second World War, and later it was restored. The last owner of the hall was the Vaidilos Theatre.
Today the building has reopened for a new life under the name J9. It has a convenient, central location with a parking lot, a large space with auxiliary rooms, and a great hall, making it an exceptional place for concerts, public and corporate events, gala dinners and much more. With theatre facilities, a stage and backstage area, a DJ console, a balcony, a bar, a kitchen, a cloakroom, and sound and light equipment, it has everything you need to make your celebration or event exciting and unforgettable.
For more information and to make a booking please contact us by e-mail or call +370 5 2125 803.